On Thursday, June 9, I attended a Gen-Art sponsored screening of Victoria Mahoney's independent feature Yelling to the Sky in Manhattan. Starring Zöe Kravitz and co-starring Gabourey Sidibe, this film has had significant buzz. It made its debut at the Berlin Film Festival and was workshopped via Sundance Institute's Screenwriters and Directors Lab. Based on synopses I read prior to the screening, I was curious to see if the portrayal of black women(hood) would be complex and fresh (as it was in Ava Duvernay's wonderful I Will Follow) or if it would stick to the usual, shopworn portrayals that sometimes plague even independent feature films. I was especially interested to see whether Sidibe's character would be similar to the one she played in Precious or if that image would be turned inside out (Sidibe was actually cast as Latonya Williams in Yelling before being slated to play Precious Jones).
In Yelling, Kravitz plays Sweetness O'Hara, a biracial high school student coming of age in New York City while managing a difficult home life. Quiet (at least for the first part of the film), sensitive, introspective, and intelligent, Sweetness has to contend with an alcoholic father, a mother with emotional (and possibly mental) issues, an older sister coping with young motherhood, bullies at school, and urban poverty. Zöe Kravitz did a great job with the script she was given; her performance was nuanced and quite believable. Actually, most of the actors in the movie were strong (including Tariq Trotter, better known as Black Thought of The Roots). However, despite the actors' efforts, they could not overcome the disjointed storytelling nor the director's inability to avoid well-worn tropes of the "coming of age in the 'hood" drama. And whether intentionally or not, the director played into common cinematic (and real-life) racial memes. There were four that stood out.
Dark(er)-skinned black people are mean and like to victimize light(er)-skinned black people. The opening scene of Yelling involves Sweetness, accompanied by a friend of similar complexion, riding her bicycle right into a group of kids from her high school who in short order take her bike and beat her down in the street. Gabourey Sidibe's character Latonya is the ringleader of this group, initiating the bullying and fighting, and ultimately ordering her boyfriend to viciously finish the job. The assault only stops when Sweetness' sister Ola, who like Sweetness is very fair, brutally assaults her sister's male attacker. While the director may not have intended for this scene to evoke intraracial stereotypes and conflict about skin color, it certainly looked that way on screen. Also, while Sidibe's character was well put together (her hair was laid and her makeup was popping), she was still an (physically) intimidating bully.
Girls/teenagers/women who are "authentically" black are bad. They fight, party, don't care about achieving anything in life, and use illicit substances. After yet another incidence of family trauma, Sweetness reinvents herself. She starts selling drugs, begins cutting class, seemingly abandons her aspiration to attend college, and gets a makeover courtesy of two of the (darker-skinned) girls who were involved in her initial beat down. Her new look involves rocking doorknocker earrings, sashaying down neighborhood streets and school hallways in tight jeans, putting on lots of eye shadow and lip gloss, and a wearing a cornrow on the right side of her hair. She also enacts revenge upon Latonya, again with assistance from her two new friends, beating her bloody between classes. Near the end of the movie when it seems that Sweetness in trying to return to her old ways of being, she distances herself from her friends, apologizes to Latonya for beating her up, and pleads with her school's guidance counselor to get her into any college that will accept her. Sweetness' trajectory is not uncommon to young people of all races and ethnicities, especially when dealing with challenging life circumstances. But in this particular film, her journey to and return from darkness are literally marked by her association with and ultimate dissociation from those who are dark (of skin).
Dark(er)-skinned black male patriarchs mean well even when they're doing bad, and they always abandon their kids in the end. When Sweetness wants to get into the drug game to supplement her family's meager (non-existent?) income, she seeks out Roland (Black Thought's character). He's an educated hoodlum…you know, the black man that would be a CEO, were it not for America's racist brand of capitalism. Roland resists Sweetness' initial requests for him to put her on. But after being worn down by her relentless requests, he acquiesces and becomes her mentor and supplier. His daddy-figure drug dealer status is cemented when he also rejects Kravitz's character's romantic advances after a night of partying. Contrasted with the stoner sellers that Sweetness sometimes works alongside in her school's stairwells, Roland's selling of illicit substances seems almost righteous. In that way, he's not dissimilar from other sympathetic drug slingers like Ice Cube's Doughboy (Boyz 'N The Hood) and Chris Tucker's affable Smokey of Friday fame. But in the end, Roland puts Sweetness in harms way when he brings her to a drug pick-up that goes wrong. He ultimately ends up bleeding on a neighborhood basketball court after getting shot in retribution for the deal gone bad. Sweetness witnesses his murder after playing ball with him minutes earlier. But it's not surprising. Black men always end up leaving their children to fend for themselves.
Interracial relationships are dysfunctional and make everyone involved unhappy. Sweetness and Ola have a white, alcoholic father and a black, emotionally impaired mother. Their mother seems shell-shocked and is actually missing-with little explanation-throughout most of the movie. Earlier in the film, it seems that she literally abandons her children, but later it's hinted that she was in a mental institution. The father physically assaults everyone in the house at least once during the film and regularly metes out verbal punishment. Near the end of the film, again with little in the way of explanation, Sweetness' father decides to actually attempt to parent her. He tries to keep her off the streets and pull her off the dark path she's started to follow, becoming her savior. The O'Hara's family dynamic embodies three classic celluloid tropes: black mothers are bad and/or incompetent, white people/men are the ones who save the day, and (female) children who are the products of interracial relationships have tragic lives.
Zöe Kravitz as Sweetness, good girl gone bad.
Though I enjoyed the visual quality of this film and at times, the lyrical storytelling, I felt that Victoria Mahoney tread well-traveled ground. Yelling to the Sky seemed to me a mash-up of Kids, Larry Clark's tale of urban teenage nihilism, and Proenza-Schouler's controversial Act Da Fool; visually captivating, emotionally brutal, and unstereotypical in its presentation of stereotypes of black/biracial women and urban blackness.
While Mahoney is black and/or a woman of color (she was profiled in the April 2011 issue of Essence in an article about black independent filmmakers, "Independent Women"), that does not mean that she is incapable of promoting prosaic images of black women and people. I was unable to unearth much about Mahoney's background, except that she worked as an actress, then moved into directing/writing/producing. I have no idea what her experience as a non-white woman has been. However, whether or not she meant to make statements about race, the images she has put forth still speak to some "truths" held by her and/or a society steeped in white supremacy. As bell hooks said in Outlaw Culture, "Whether we like it or not, cinema assumes a pedagogical role in the lives of many people. It may not be the intent of the filmmaker to teach audiences anything, but that does not mean that lessons are not learned."
---
Is this thing still on?!??
---
Wendell B. Harris, Jr.'s "Chameleon Street" won the Grand Jury Prize at Sundance in 1990 and has been little seen since. That is criminal.
Tonight I had my mind blown while wearing all my clothes. I had the immense pleasure of seeing Chameleon Street (CS), a movie that won the Grand Jury Prize (read: top honors) in 1990 at the Sundance Film Festival. Wendell B. Harris, Jr.* not only wrote and directed this brilliant film, he also played the film's protagonist in a superb performance.
Perhaps if someone held me at gunpoint and demanded a brief and basic synopsis of CS, I would say, "This film is a story based on the many foibles of Michigan-based con man William Douglas 'Doug' Street, Jr." But hopefully that will never happen because this movie is so beyond basic. I know this statement has been made many times before about many different works of art, but it really was like improvisational jazz. The main narrative revolved around the story of a con man and was punctuated by fascinating riffs on Blackness, (the insecurity of) Whiteness, marriage, being too smart for your own good, and the prison-industrial complex among other (still very relevant) witticisms and criticisms about crazy-making American culture. Also, this movie is tragicomedy (and what comedy it is) at it's finest…not unlike the unreality of daily life (especially as experienced by black and brown people).
Harris as Doug Street.
If you've never heard of this cinematic treat, it's really not your fault. Despite winning the top prize at Sundance in 1990, this film left Park City, Utah without a distribution deal but managed to build a cult following among the cineastic cognoscenti. (Note: According to the crack team at Shadow and Act, a distribution deal was offered under the condition that a certain fresh rapper cum actor play the lead. Thank God and rightly so, Mr. Harris said N to the O.) See, Hollywood distribution executives didn't know how (and apparently weren't willing to make the effort to figure out) how to package/market CS. (I bet their discussion went something like this: "This movie is amazing! But who's going to go see Black people be amazing? Hmm. I wonder if we can get Harris to rewrite it? Hmm. Maybe he can add a scene where Doug shoots up with a hypodermic watermelon needle? Yeah, yeah, that's the ticket!")
And therein lies the problem. Hollywood has only a few hackneyed, stereotypical ways for black people to be on the silver screen. In an interview with Tanya St. Louis** of ActNow***, Harris had this to say about the pigeonholing of Black humanity by the motion picture industry:
Unadulterated Truth has never been the target when it comes to showing black people on screen. Never. We've been portrayed as Exotic … Over-The-Top … Freakish … Highly Sexualized …. Buffoonish …. Incompetent …. Monstrous …. Uncultivated … Venal and/or Anal —– everything and anything except 3-dimensional, relentlessly sensitive human beings. The on-screen image of black men, women, and children has been subjected to the most sustained campaign of character assassination in history…because our story … told simply and without embellishment … has been rigorously eschewed and censored since THE BIRTH OF A NATION circa 1915.
Almost 100 years after the debut of that "classic" Ku Klux Klan recruitment vehicle, Black people are still being maligned by the industry that is responsible for creating American mythology and spreading it around the world. The people with money and power in Hollywood, black (see: Perry, Tyler), brown (see: Shyamalan, M. Night), and white (see: all of the white people in Hollywood), continue to grotesquely distort the image of Black (and non-white) folks partly because it has proven to be extremely profitable. But it's also because they don't know the actual range of Black humanity (hint: it's the same as it is for all humans) and/or they doubt the ability of moviegoers to recognize the universality of the Black experience when presented truthfully, intelligently, and skillfully.
It's been close to a quarter-century since Hollywood passed on an opportunity to do right by exposing mainstream America to the genius that is CS; since Robert Townsend, on his own dime, hilariously showed the absurd relationship between Black people and Hollywood in Hollywood Shuffle; since Spike Lee made his major motion picture debut. (Is Spike ever going to win an Oscar for directing??) It's 2011 and no Black people were nominated for an Academy Award this time around. Last year, a movie that was technically well made but chock full of almost every purported Black pathology was nominated for several awards and earned one of its stars a golden statue. Oh, and Tyler Perry has another movie featuring Madea coming out soon.
Hollywood is truly heinous.
*I don't know if it's because Harris didn't pursue more roles, but the fact that he has not appeared in more films is also criminal. His ability to use his voice for effect and his nuanced yet vast range were astounding.
**This interview is worth reading in its entirety. Harris' thoughts about the stage versus the film version of 'For Colored Girls…' echo my own.
***ActNow's film festival, New Voices in Black Cinema, ended its five day run at BAMcinématek last night. It was a great series. If you live in or near the NYC metro area, please make it a point to support it when it rolls around again.
---
I tried my hardest to ignore her. But then she had to mention Bo Derek.
February is upon us once again along with an accumulated four feet of snow in NYC, but who's counting. Not only is it the coldest, shortest month of the year, it is also the time when Glenn Beck, Rush Limbaugh, and not a few Tea Partiers some Americans bemoan "political correctness" and "misguided diversity initiatives" just because mainstream America is made to remember the numerous contributions made to this country by enslaved and free Africans and their descendants. That's right, it's Black History Month!
As I've been studying the history, struggles, and triumphs of African-Americans and others in the African diaspora for 30-something years, I thought 2011 might be a good time to assume the role of teacher. The political and pop cultural landscapes of America are rife with people who are sorely in need of a good lesson in black history. So, because charity starts at home and each one should teach one and all of that, I decided to write Black History Month open letters to those I think could really benefit from dropped knowledge.
I'm kicking off this series with a letter to Kim Kardashian. Yes, Kim and her familial kohort have become quite the reality-show/tabloid celebrity juggernaut since Kim made her inauspicious debut as Paris Hilton's purse holder friend on The Simple Life back in 2003. Kim is everywhere…on your television screen, staring out at you from the tabloid magazines jammed into the display by the register at the grocery store, in your boyfriend's secret drawer where he stashes his p0rn, and possibly coming to your MP3 player. Antoine Dodson should have been telling us to hide ourselves from her rapacious marketing. But I digress.
When Kim posted a photograph of herself on Twitter in which she was vamping while sporting beaded cornrows, I realized that she must not have gone to any lectures about the legacy of the Civil Rights Movement or watched any PBS documentaries during the Black History Months that she spent with Reggie Bush and Ray-J. No, she couldn't have. Because she referred to her cornrowed hairstyle as "Bo Derek braids."
Mmmmmm. No.
I'm sending this out (in language she'll hopefully understand) into the ether of the interwebs in hopes that Kim will read it and make her way to the Schomburg Center before she finishes filming her new reality show in NYC.
Dear Kim,
My name is Monday's Baby. I'm a just-starting-out blogger and a resident of New York City. I hope you've been enjoying this cold weather as much as I have. :-) So energizing! And I love finding new ways to accessorize my big, bulky, black down coat. Do you do that, too?
Anywho, I'm writing because I had a question for you. Right before this past New Year's, I saw you on Twitter stylin' cornrows with cool beads at the end. And I was all confused because you said you were rocking Bo Derek braids. See, I've been getting my hair styled like that since I was a little girl, and me and my family (and pretty much everyone else I know…well, all the black people, I guess) call them cornrows. And I'm pretty sure my great-great-great-great-great-great-great-great-grandmother called them that because that's what her mother who was stolen from Africa, enslaved, and forced to work on a Southern plantation called them. Crazy, right?!? Yeah, I know.
Now, I do remember some of my aunts talking about a white actress (Bo Derek, I guess?) in some movie wearing cornrows and their co-workers getting all excited about it, like they had never seen them before. And one of my aunts told me this story about how one of her co-workers asked my aunt if she could come over one weekend and do her hair like that. I don't exactly what my aunt said to that lady. She left out a lot of words she said I wouldn't understand until I grew up.
But, yeah, that's what I was writing to ask you. Because I was just so confused about why you called them Bo Derek braids and not cornrows. That's crazy talk. Everyone knows they're cornrows! Lololol! I mean, I watch all your shows on E!, and I know you're smart and always running and starting and running businesses with your sisters and stuff. Those beads were cool. Did your family like them? Did you get them done in Beverly Hills or Baldwin Hills?
Anywho, it would be cool if you write me back, but if you don't, I understand. I know you're probably at a photo shoot or hanging out with Kanye West or something. Stay klassy, Kim!
Sincerely,
Monday's Baby
*Never call cornrows Bo Derek braids and read about the history of Black hair and analyses of Black women, culture, and hair in America: Hair Raising: Beauty, Culture, and African American Women by Noliwe M. Rooks, Hair Matters: Beauty, Power, and Black Women's Consciousness by Ingrid Banks, and Hair Story: Untangling the Roots of Black Hair in America by Ayana Bird and Lori Tharps.
---
Erykah was right when she advised us to pack light. But you need to carry clean underwear and a toothbrush no matter what day of the year it is.
Today marks the start of another revolution of the Earth around the Sun. I'm pretty sure if given the choice, earth would like nothing more than to shake off the burden of carrying the 6,890,861,814 people residing upon its surface for this go 'round. But, unfortunately for the big ball of land and water from which you're reading this post, that's not likely to happen unless the terrorists win anytime soon.
Not unlike our home planet, many folks would like to leave all manner of people, places, and experiences in the year that just passed. And as it is for earth, it is for earthlings…not (always) possible. At least not until someone figures out an easy way to manipulate the space-time continuum and turns it into a iPad app or iGoogle gadget. So, during this year, like every year that has come before, there will be stuff that happens that is unpleasant and we would rather not deal with. New memories will be made, and they won't all be good. Lessons will be learned; some the hard way and others more easily. That, my friends, is what we call Life®. And Life® doesn't stop until it does.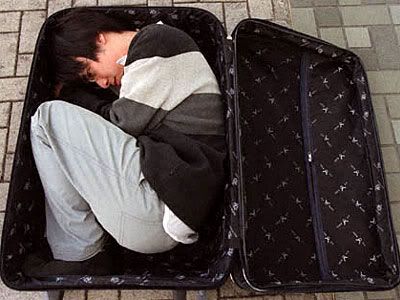 Flying into a new year when things get crappy isn't feasible, at least not until the airlines figure out how to make it happen in order to increase their profit margins. It's better to figure out how to deal with the now.
So, yes, we are at the start of a new calendar year, and a lot of people take it as a fortuitous time to begin living anew. And although I used to think the same, I no longer do. Too many years of hundreds upon thousands of unfulfilled resolutions made me realize that the prospect of starting A New Improved Best Life Ever! when January 1st rolled around was too much pressure. I definitely think the start of a new year is a great time to reflect and (re)evaluate, especially since it's too d*** cold and slushy to do much else during winter in NYC.
But really, you can wake up any day and decide to be different. Any. day. you. choose. In my opinion, that makes every day worth getting up for, no matter how bad things seemed the night before. There is always the possibility to recreate yourself. You can, at minimum, change the lens through which you view your current circumstances. And with planning, purposeful effort, and the right support, you can completely alter them. And that, my friends, is the beauty of Life®.
Happy New Year, y'all!
---
---